Let us get you to and from the Port of Palm Beach which is located in Riviera Beach in Palm Beach County. It is the 4th busiest container port in Florida. The Port is located about 80 mile North of Miami. The majority of the exported cargo from the port goes toward supporting the island nations of the Caribbean. The Port of Palm Beach supplies 60% of everything consumed in the Bahamas and is the essential lifeline to the rest of the Caribbean.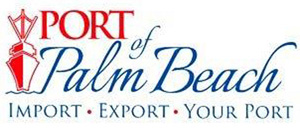 The Bahamas Celebration Cruise Ship is based out of Port of Palm Beach with a sailing every other day to the Bahamas bringing 275,000 passengers to the port. In 2015 the new Grand Celebration Cruise ship is taking the place of the Celebration which was damaged in 2014. This ship keeps the port busy with tourists coming and going, but as you can see it is not as busy as the other Ports like Miami and Ft. Lauderdale.
Palm Beach County is beautiful so the drive to the seaport will give you some sites to look at. Let our staff give you some ideas on what to do if you would like to spend time in Palm Beach or surrounding areas.